The cast of Laguna Beach just reunited for the first time ever in nearly two decades — and we couldn't be more thankful for this timely dose of nostalgia!
Fans of the OG MTV reality TV series were in for a real treat on Friday as cast members Lauren Conrad, Stephen Colletti, Kristin Cavallari, Trey Phillips, Dieter Schmitz, Loren Polster, Lo Bosworth, Talan Torriero, Christina Sinclair, and Morgan Smith appeared in a pre-taped reunion special via Zoom to reminisce on old times for a very worthy cause!
Related: Kristin Cavallari Spills The Tea On How FAKE Laguna Beach Was!
The crew seized the moment as a golden opportunity to encourage fans to vote in the 2020 election; the idea was first introduced by Lauren, Stephen, Kristin and Trey who created an Instagram video on October 3 saying that if they could get 500 fans to register to vote or check their registration status, they'd get the gang back together again. It turns out through their partnership with HeadCount, the stars eventually reached 20 times their original goal. Nice!!!
With that achievement under their belts, all that was left was for the band of co-stars to deliver on their promise and go back, back to the beginning…
The group answered fan questions, played trivia, and revealed some truly surprising secrets about what didn't make it to air. Of course, the big draw here for most is that frenemies LC and Kristin put their old differences aside for this segment! Read on (below) for all of the highlights:
Those 'Triggering' Editing Mishaps!
The cast spent ample time shedding light on the editing of the show, explaining how some scenes were filmed out of order or awkwardly cut together to purposefully manufacture drama. Kristin joked there wasn't enough time to go through every example that left her "triggered," but she then recalled one upsetting incident:
"There was one time that they had me walking down the street — they had a producer on the other side of the street and they were, like, 'Just look at her.' She was, like, giving me these dirty faces and I'm, like, 'Oh, my God, look at her!' Of course they made it seem like I was looking at Lauren being like, 'Oh, my God.' We had no idea what was going on!"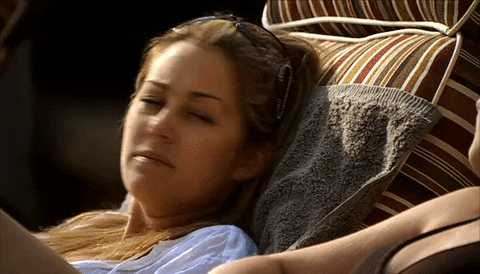 Ugh, yikes!
Christina also remarked at how different their version of reality TV was compared to what she had expected or previously been exposed to:
"Reality TV was not really a thing before Laguna Beach, so I thought it was going to be, like, True Life. In retrospect, had we been exposed to reality TV the way that we have now, but in a way, that's what's made Laguna Beach so iconic because we really went in with no expectations, having no idea what we were doing."
The Catalina Episode Was NOT All in Catalina!
Speaking of editing, the famous Catalina incident, in which Stephen dressed up as a bear to scare the girls as they camped out, didn't actually take place in Catalina. What the heck?! Isn't the So-Cal island fairly close to Orange County where they filmed?
Dieter explained:
"They put a tent up in Trey's backyard and we had to pretend that you were in the tent putting Stephen in a bear suit again, while Trey's mom was, like, doing the dishes five feet away."
Wow, talk about TV magic. During that episode, Stephen also did an incredible front flip off a mountain — but there was a scary moment that rightfully did not make it to air:
"There's a part in that episode where I jump off this cliff, and there's a good 30 minutes before actually getting up there that I was stuck trying to climb up, and I thought I was actually going to die. I thought I was going to fall off. I was hanging on by just, like, one little root or plant. All I could think about was, 'Oh, my God, I'm gonna be in one of those videos where somebody caught on film the moment this person died.'"
Holy sh*t! Thankfully, the daring stunt went off as planned and no one was seriously hurt.
Cabo Secrets!
Then it was Lauren's turn to shared another little factoid about the group's time in Cabo! Although most of that iconic episode revolved around Kristin and then-boyfriend Stephen's dramatic fight, Conrad shared a lighter memory from the trip:
"I have a very clear memory — I don't know if this ever made it into the show — but us filming in Cabo, Stephen getting so drunk that he tried to go jump in a fountain. There was, like, a sound guy chasing you trying to get the mic off you before you make it!"
While Stephen didn't remember doing that, he does remember hearing about it. However, neither he nor Lauren were sure if he actually jumped into the fountain. LC added:
"I think so. I don't know if we saved the mic."
During the reunion, Christina shared that she and Stephen are "godbrother and sister" since his mother is her godmother! In fact, their mothers went to Laguna Beach High School 30 years before they did and the close relationship came in handy when the reality stars got caught ditching school together once. Coletti explained:
"They're like, '30 years before you guys, we would have done the same thing.'"
Very true and hey, what a small world!
The 'One Tree Hill' Date That Never Happened
During a trivia segment, the group was asked which celebrity both LC and Lo wanted to go to prom with. While neither woman could remember, Talan did and revealed to the group it was Chad Michael Murray. Both ladies were shocked that they'd said that, but Stephen deduced it might've had something to do with his stint on the CW drama back in 2007 and they agreed:
"It'd probably because we liked his show [One Tree Hill], and then Stephen went and got on it."
He then chimed in:
"And ruined it for you? You can say it!"
Poor boy ruined a lot of things for those gurls, LOLz!
Stephen Totally Went Commando!
There was often a cheeky but confusing debate about why Stephen's bottoms were so low all the time during filming, exposing his butt crack. The low-rider look was definitely a trend at one point, but clearing up the issue once and for all, the now-34-year-old star said:
"It's one thing to sag my shorts or pants a little bit but it was worse because I didn't wear underwear for a long time. I hit puberty in college and realized I should start wearing underwear!"
OMG! He's still a hunk in our eyes but man, that might've been TMI.
Perezcious readers, did U feel the nostalgia here or what?! Which piece of info surprised you the most? Let us know (below) in the comments and if you're curious for more from the cast — including a must-see moment when the Uncommon James designer called out Stephen by name in the voice that only she could do — check out the full reunion segment here:
[Image via Instar/WENN/Talan Torriero/YouTube]